Instructions on making your 2020 United Way Gift
Important Instructions on Making your 2020 United Way Gift
Please follow the instruction below to complete your 2020 United Way gift. If you are having difficulty or need additional assistance, please contact Raymond Santiago at the United Way. He can be reached at 610-807-5710 or via email at raymonds@unitedwayglv.org.
If you are uncertain of what you gave in the past, select My Giving History (under Donate) to review your past gifts and designations.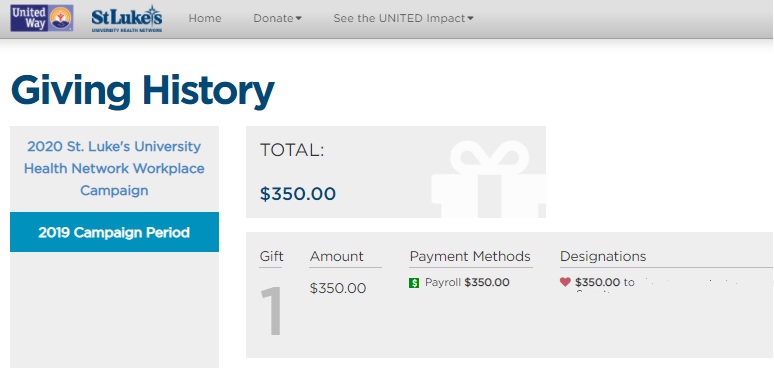 If you did not contribute in 2019 and want to support the 2020 campaign, select Donate Now from the drop-down menu. After choosing your payment method and amount, follow the instructions on this page to complete your gift.

If you supported the 2019 United Way Campaign:

Payroll deduction: If your 2019 gift shows as Payroll deduction and are satisfied with last year's gift amount and designations, no action is required on your part. Your pledge from 2019 has automatically been renewed for the 2020 campaign, as part of the Evergreen option we have implemented this year. You should see this gift in the Giving History. If you want to make changes to the gift, including canceling your Evergreen renewal by opting out, follow the instructions on this page.

Credit Card or Direct: If your gift shows as Credit Card or Direct, you may renew your gift or submit a new gift. These gifts are not automatically renewed. Follow instructions on this page to RENEW your gift or to SUBMIT A NEW GIFT.
After you have chosen your payment method and amount, you will be prompted to choose where to designate your gift. United Way designations will be listed first, followed by the St. Luke's University Health Network general fund. If you wish to designate to one of these designations, use the slider bar to fill the appropriate designation(s) or enter the amount(s) manually.