National Impact
Now more than ever, communities need help. Our neighbors need relief. They need hope.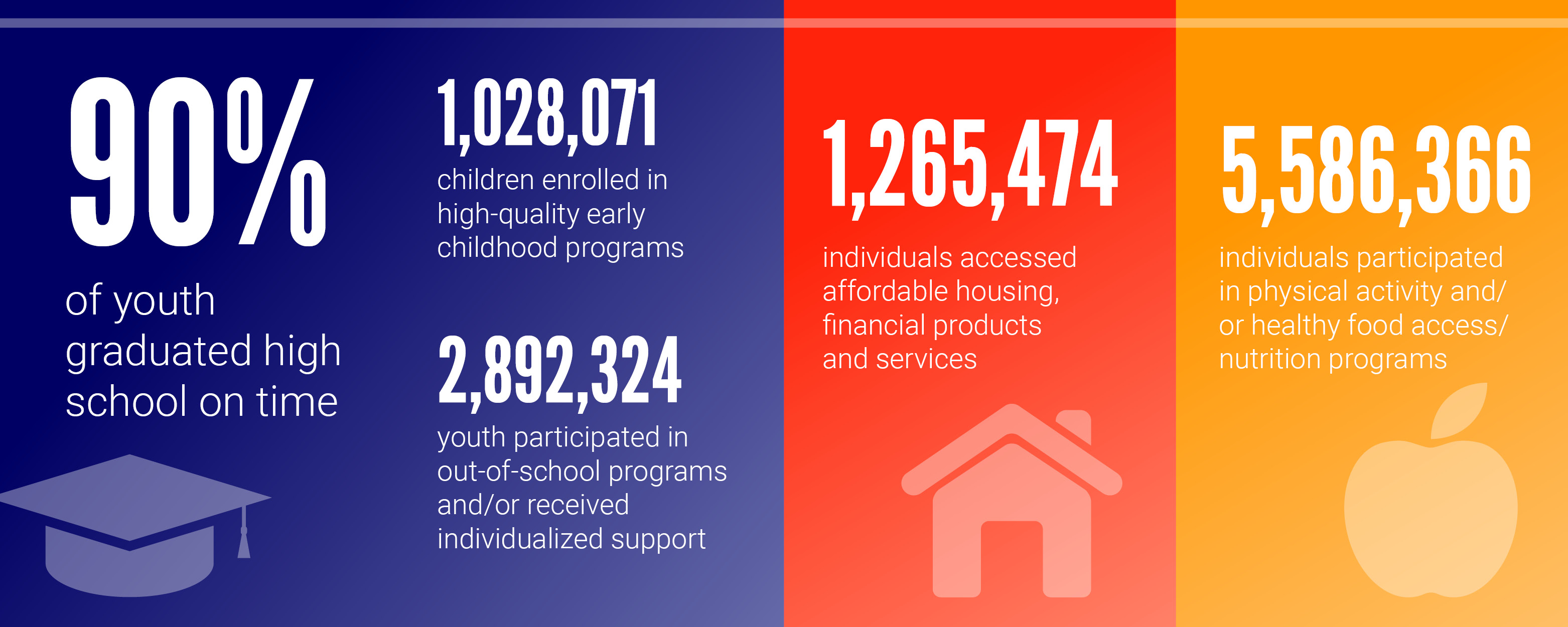 United Way was made for this. As the world's largest nonprofit, United Way serves 61 million people each year and is engaged in almost 1,800 communities across 40+ countries and territories.
From improving the quality of early education in Atlanta, to helping families put food on the table in Houston to connecting families to housing in Dallas, we don't back away from the toughest challenges. We do it by forging partnerships, finding new solutions to old problems and mobilizing the best resources. These stories are testament to the impact communities can make when we come together and LIVE UNITED.
---
Like many, Mary never expected to end up homeless. The single mother from Bethlehem, Pennsylvania had been working full time before the COVID-19 pandemic.
"I lost my job. I didn't have child care, and I didn't have any income. I just wanted a place for my daughter," she said, wiping away tears.
All across our Pennsylvania's Lehigh Valley, families like Mary's are working hard, but still struggling to survive. Before the pandemic, reports showed that 40 percent of Pennsylvania households were living paycheck to paycheck with no savings for a rainy day, leaving them one illness, emergency or job loss away from financial crisis.
"The first thing I did was call 211 for help," she explained.
Through PA 211, the health and human services helpline powered by United Way of the Greater Lehigh Valley, Mary connected to New Bethany Ministries which provides food, housing and other emergency services to anyone in need.
The team at New Bethany Ministries supported Mary and her daughter with emergency shelter and helped them find and furnish a new apartment.
"They helped me get back on my feet. My daughter has her own room now and her own toys. I cook every day. I missed that a lot," she added. "It feels amazing to know there are people out here in our own community that help."
Because of you, United Way is there for families in times of crisis. Today, even more are facing financial insecurity and the demand for emergency services is on the rise. PA 211 served 14,500 callers this year and requests more than doubled during the pandemic. This is a vital service in our community, ad it can only continue with your support. Give today to help your neighbors when they need you most.
---
When Gigi was 20 years old, she was living with her boyfriend, and in an emotionally abusive relationship. They got evicted from their apartment, broke up, and then Gigi found out she was pregnant.
"I had no idea what I was going to do. I felt really alone because I didn't have a lot of people I felt like I could talk to about what was happening," she said.
Through a local health clinic, Gigi got connected with a program supported by Greater Twin Cities United Way in Minneapolis, which prepares determined single mothers to excel in the workforce as well as readies their children to succeed in school. She saw the chance for a better life for herself and her son through the program's supportive housing and childcare as well as educational and employment support.
"Supportive housing gave me the freedom and ability to be a mom to my son. The program provided a safe place to live and we always had food on the table, I didn't have to worry about where dinner was coming from," Gigi said.
The program also helped her go back to school, find employment, and achieve financial security for her family. After about five years in the program, Gigi was able to get her own apartment as her son was starting kindergarten.
Now, over 15 years later, Gigi is a motivational speaker and author. Her son, Sadiiq, is a junior in high school and basketball player looking at colleges. The family is also looking at buying a house in the next year.
"We always have an opportunity to re-write our stories," said Gigi. "I was able to rewrite my story because of United Way- it helped me change the road I was on."
Your support today can change someone's tomorrow.
---
Ryan is 8 years old and is the youngest of four children. His family struggles to make ends meet, and health care is low on the list of priorities due to the many demands they face.
Ryan never owned his own toothbrush, and instead shared one with his siblings.
Through a the United Way-funded fluoride program run by the Dental Care Access Foundation, Ryan had a fluoride treatment applied to his teeth to prevent cavities and received his own dental care packet — including a toothbrush of his very own — so he could maintain his teeth. The Dental Care Access Foundation also referred Ryan and his family to no-cost clinics for on-going care.
Every day in every community, United Way fights for the health, safety and financial stability of kids and families like Ryan's.